Introducing the latest indoor/outdoor fabric collection from Madeaux, an alluring mix of colour and classic French style inspired design, perfectly suited to a sun-drenched terrace, as much as it is to the most popular room in the house.
Not only are these sophisticated looking qualities wonderfully soft to the touch, but they also offer fantastic durability and light fastness as they are woven from recyclable solution dyed yarns with an excellent proven track record of performance.
This collection's array of charming geometrics and unique, vintage bouclé will whisk you away to a vibrant outdoor café on the coast.
Fabrics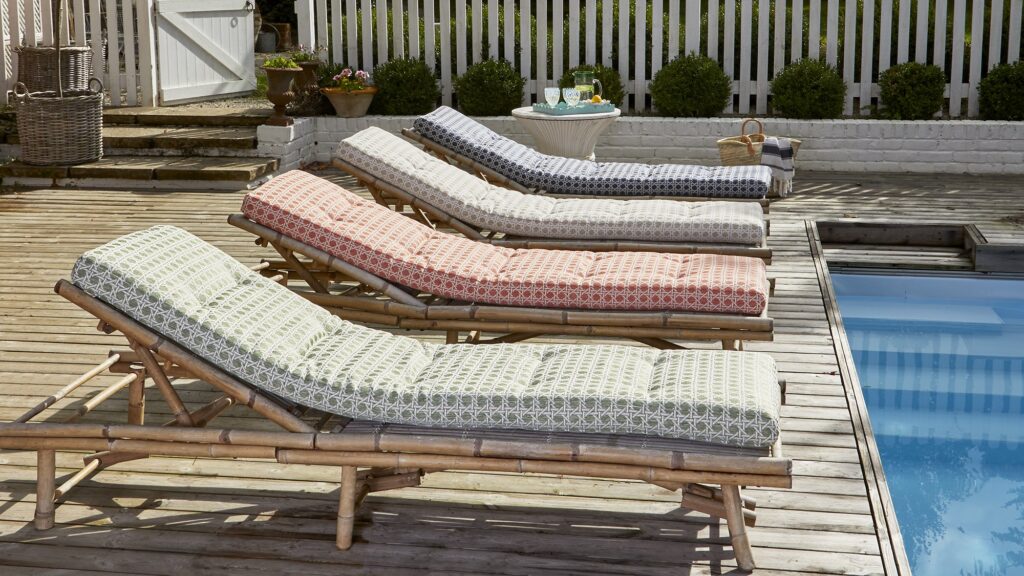 The pattern inspired by traditional rattan seating found outside Parisian bistros, Cafe Society is woven from polypropylene with a subtle heathered effect: created by blending together three different colours of yarn which gives a subtle artisanal feel to the ground.
Available in nine colourways.
100% Outdoor Polyolefin.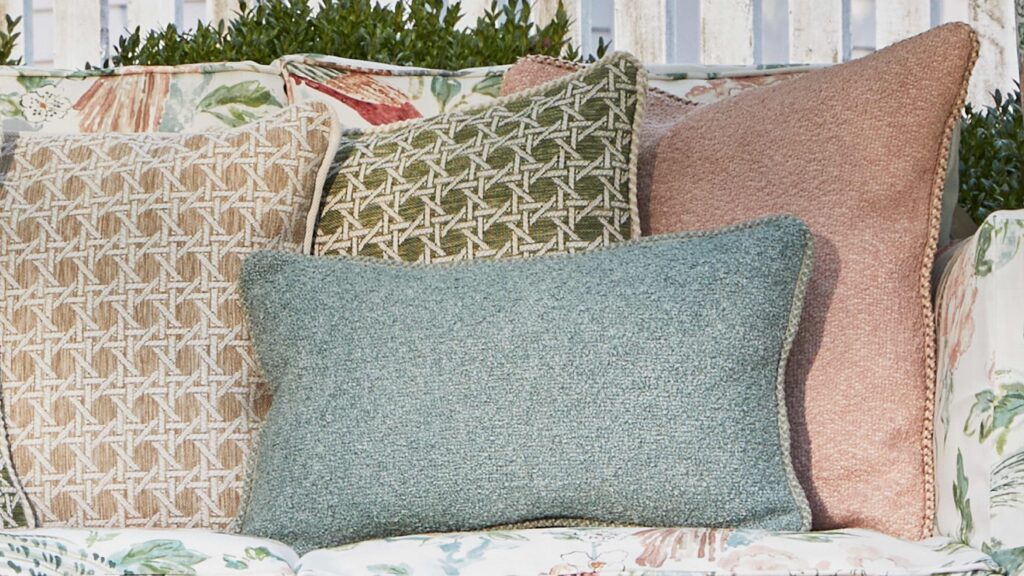 An uneven twist to the yarns, the irregular warp and inspired colour palette give the Bouclé design a gorgeous, vintage feel.
Taking its name from the French word for 'loop', this clever take on traditional bouclé fabric is woven using polypropylene yarn, giving it a lovely, heavy weight, making it the perfect choice for upholstery.
Available in five colourways.
100% Outdoor Polyolefin.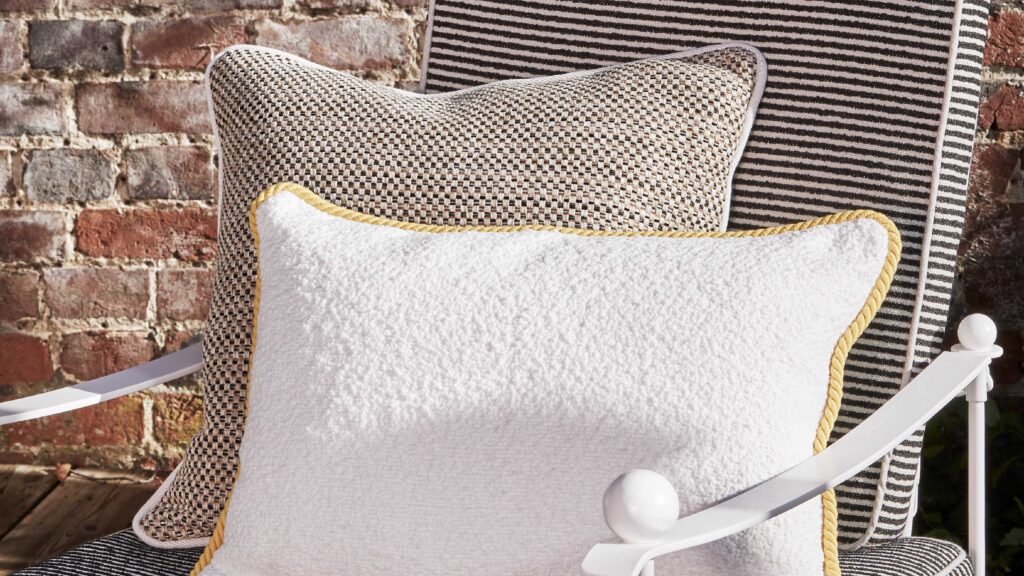 Inspired by checkerboard paving stones, this pattern creates a charming contrast between the more solid toned yarns in the warp with the variety of colour in the weft. This alluring melange makes En Damier an incredibly versatile fabric when working it into any scheme.
Available in six colourways.
100% Outdoor Polyolefin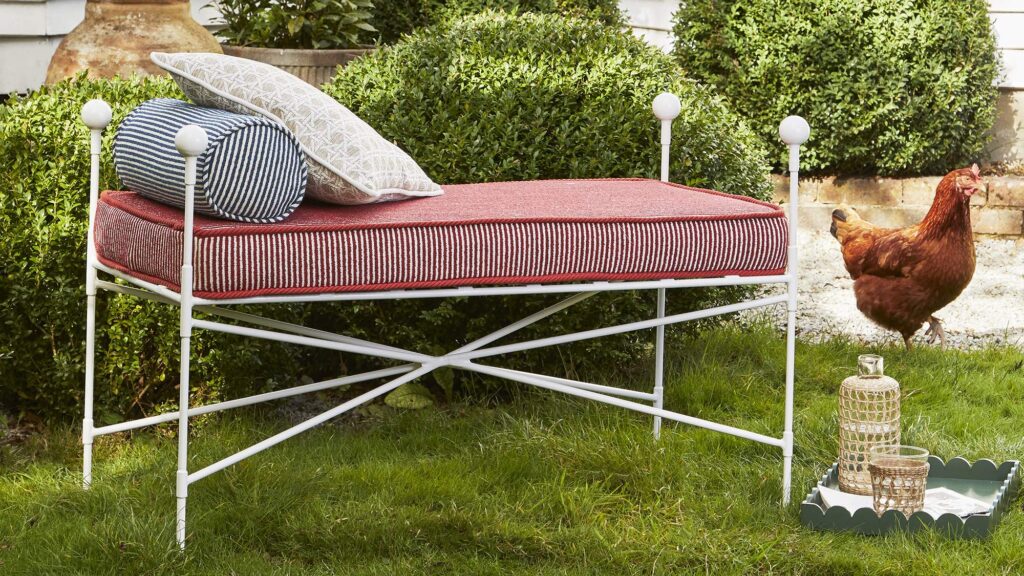 The beautifully simple stripes in this pattern consist of an off-white ground alternating with a more three dimensional bouclé yarn, giving a strong, textural effect.
Woven from recyclable, solution dyed polyolefin, Boulevard Stripe is a unique and playful design reminiscent of a jumbo cord fabric.
Available in three colourways.
100% Outdoor Polyolefin
Outdoor Prints From Our Favourites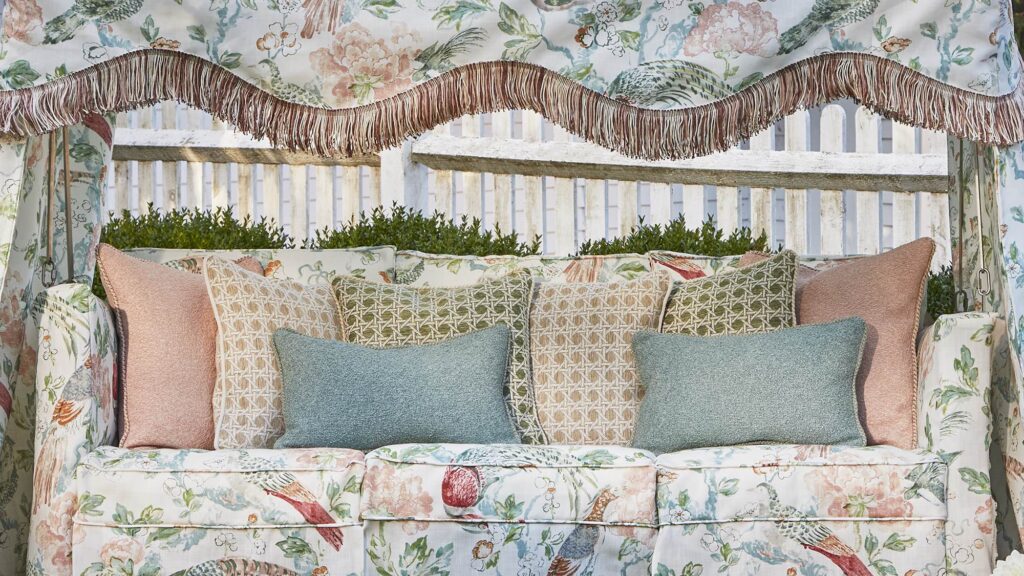 Our popular Aviary design has been reimagined in a gorgeously refreshing 'Summer Breeze' colourway. In the style of hand-painted Oriental wallpapers, many of the elements of this design were taken from a lacquered Japanese screen which have as much appeal out of doors as they do inside.
100% Outdoor Quality PL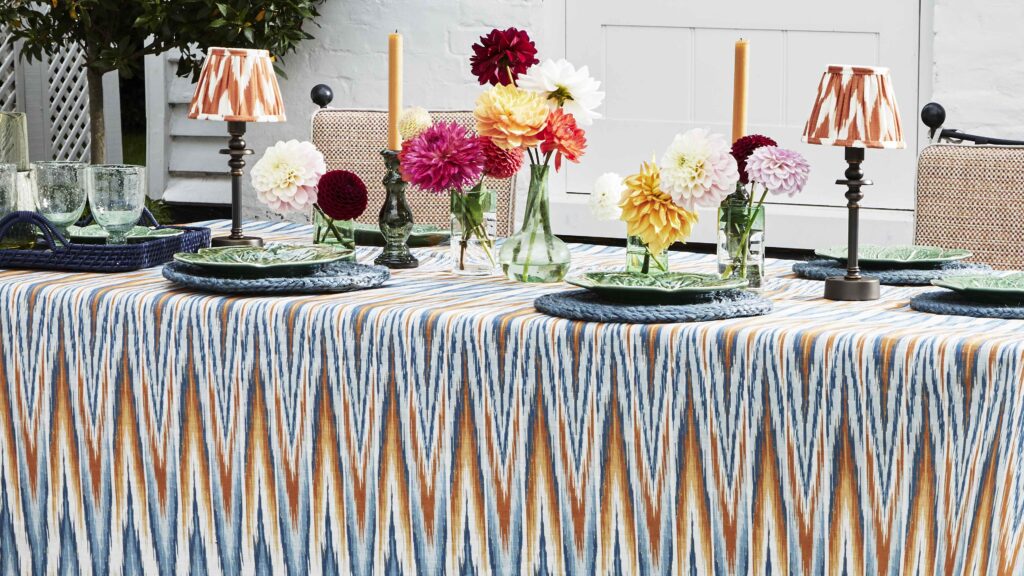 Our new Ziggery colourway is filled with joyful, warm tangerine hues contrasting with classic blues.
Originally drawn from seventeenth century flamestitch documents, rotating this design on the horizontal gives it a more contemporary feel whilst reminiscent of a hand woven ikat.
100% Outdoor Quality PL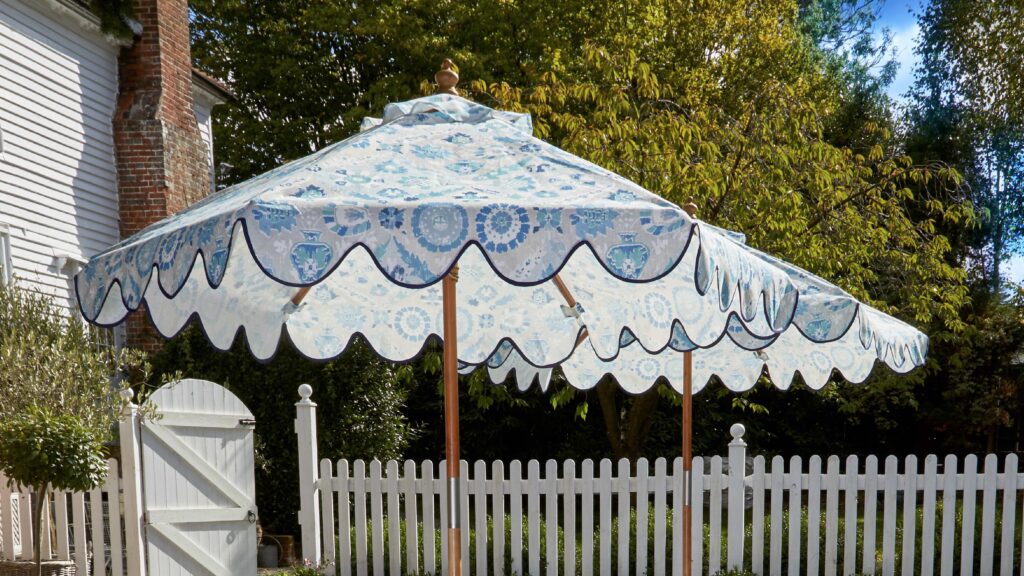 Originally inspired by a visit to the Hotel Lambert in Paris when it was decorated by Renzo Mongiardino, this new recolouring of our popular 'Cornucopia' design combines several fresh shades of blue, from turquoise to navy making it eminently useable.
100% Outdoor Quality PL
Classic Recoloured Wovens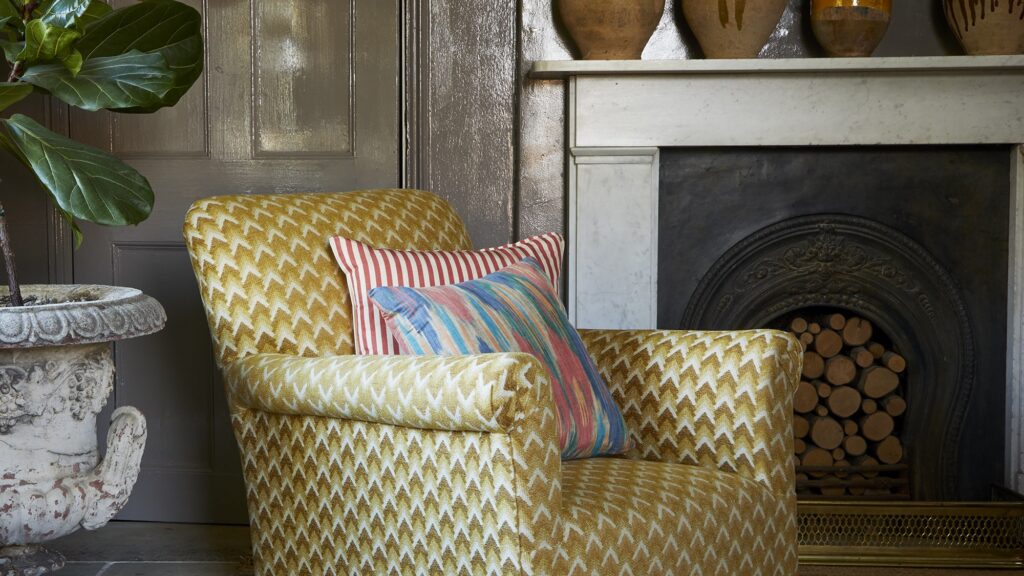 This new colour, inspired by glazed Provencal pots, has all the punch of a Dijon mustard and is a charmingly warm addition to the existing four colours in the collection.
Named after the classic flame stitch or Hungarian point first seen in 17th century Italian textiles, the scale and heavy construction of Bargello make it ideal for furniture.
Available in five colourways.
52% VI / 24% LI / 18% PL / 6% CO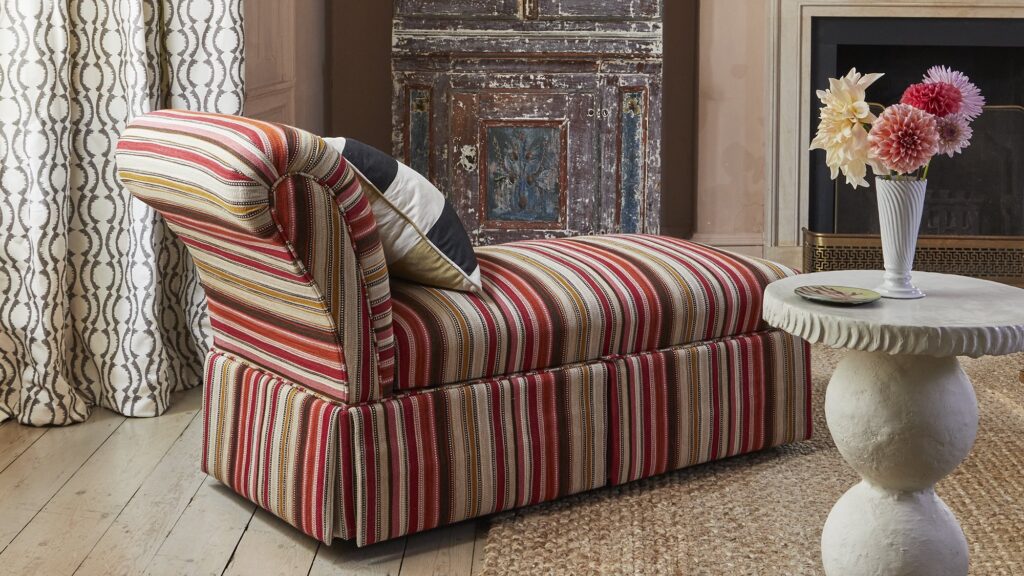 Now available in a new documentary inspired colourway, combining garnet, rose and copper with chocolate brown, culminating in a surprisingly modern style.
A timeless flatweave which uses wool and a touch of alpaca to give it a soft handle, it's equally at home in a country house as much as in a contemporary context.
It would work as well as simple unlined curtains as it does on sofas, ottomans and armchairs
Available in three colourways.
30% Cotton / 28% Wool / 28% Polyacrylic (PAN) / 12% Polyester (PES) / 2% Alpaca (WP)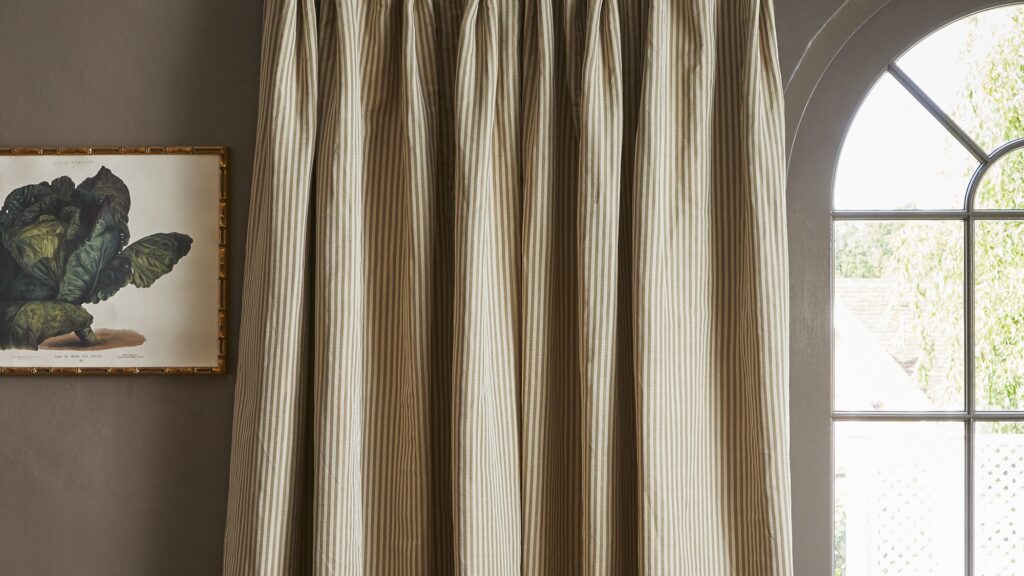 This sophisticated, couture-like stripe has been reimagined in a soft neutral, 'Lichen' colourway, somewhere between linen and stone which truly complements and works well with existing colours in the collection.
Audrey's contrast of weight and texture between the silk and linen fibres creates a luxurious 'crunchy' handle which makes it perfectly suited to full length curtains.
Available in six colourways.
33% Silk / 67% Linen